Healthcare Providers are Developing Severe Eating Disorders during COVID-19
As healthcare providers (HCPs) ourselves, we understand the difficulties COVID-19 has brought to the practice of medicine and behavioral healthcare. These noble professions can be emotionally and physically taxing in normal times, and providers must now navigate evolving safety, effectiveness and capacity concerns, as well as inevitable clinician burnout.
The pandemic's toll on HCPs is evident in ACUTE's admission data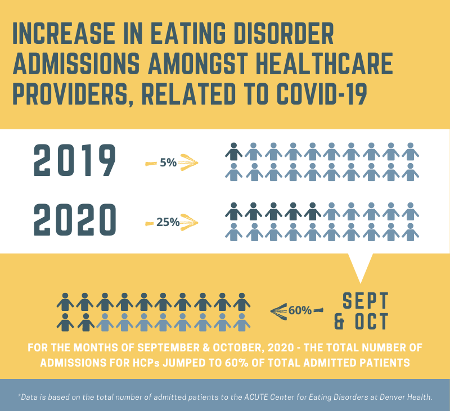 We must take care of ourselves in order to effectively care for our patients. If you, a colleague or patient working in a healthcare field is experiencing life-threatening medical issues from a severe eating disorder, we are here to help. Your treatment inquiry will be met with understanding, discretion and world-class medical care. Urgent air ambulance transfer is available when clinically indicated, and our private hospital unit at Denver Health Medical Center is uniquely equipped to deliver safe treatment during COVID-19.