An Interview With Dr. Allison Nitsch, Medical Director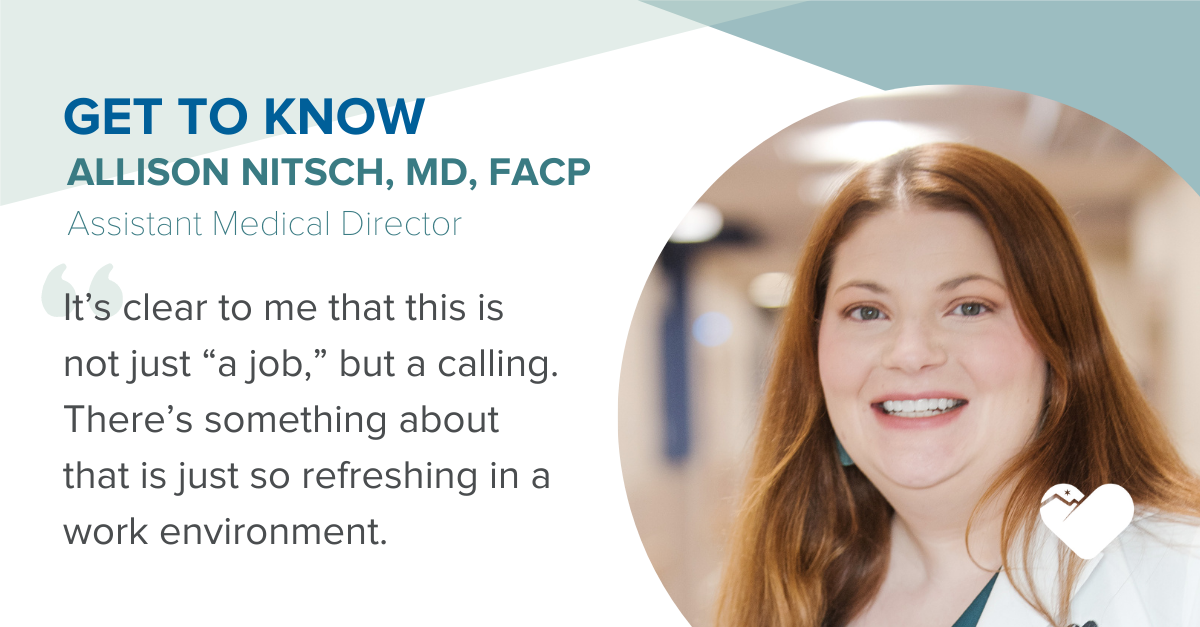 ACUTE has some impressive professionals on our treatment team. In our interview series, we aim to highlight the talented individuals who work at ACUTE and the ways they impact the lives of our patients.
We spoke with Dr. Allison Nitsch this time. Here at ACUTE, Dr. Nitsch is the Medical Director. On her own time, she loves cooking and baking as well as spending time with her family. We talked with Dr. Nitsch about what it's like working at ACUTE and more below.
What was your first job and how did you end up where you are today?
My first job was in college working as a cell culturist for a biomedical engineering lab at the University of Texas at Austin where I was studying chemical engineering. I prepared and maintained cell lines for experimentation, in addition to ordering supplies for the lab. I knew I wanted to go to medical school and was considering an MD/PhD, so this gave me further exposure to bench research. I love bench research, BUT I'm not too great at it so I opted to just do the MD. After completing my degree at UT Austin, I completed medical school at Texas A&M. By the end of medical school, I knew if I didn't leave Texas, I probably never would. I decided to not rank any programs in Texas to force myself into an adventure. I then matched to my first-choice residency at University of Colorado in Internal medicine where I was in the Hospitalist training tract. My attending job after my chief year was working at the Denver Veterans Hospital as a hospitalist.
Tell us how you ended up working with patients that are suffering from an eating disorder.
I completed my Internal Medicine residency and Chief Medical Residency through the University of Colorado, completing some rotations at Denver Health. This made me familiar with the ACUTE program, although I did not work on ACUTE during residency. In fact, eating disorders, including their diagnosis, management and medical complications were NEVER addressed during residency. After residency, I worked as a hospitalist and then in primary care. My favorite thing about medicine is the relationships you build with patients. In the system I was practicing primary care in, this had become less of a focus and I did not feel supported by the health system to care for patients effectively. While looking for a new job, I found a listing for an opportunity as a hospitalist at ACUTE and remembered how the attending physicians I had worked with during residency enjoyed working on the unit, so I decided to apply.
What drew you to ACUTE?
Eating disorders, beyond a singular lecture in medical school, were never a focus in my medical education or training. The opportunity to learn something completely new was enthralling, but my lack of knowledge in the field also held me back from immediately applying to ACUTE. When I did finally apply and interview, Dr. Mehler asked me about my prior medical experience in treating patients with eating disorders. I remember the sinking feeling I had as I admitted my lack of experience. I had already interviewed with several members of the ACUTE team and felt like I really wanted to work with them and their patients. Fortunately, Dr. Mehler reassured me that I was in the same position of many physicians in terms of their limited exposure to, diagnosis of and treatment of eating disorders and their complications. As the interview with Dr. Mehler went on, his clear devotion to the patients and advancing the field to better treat them had me hooked! I knew I had to work at ACUTE.
What do you love the most about working at ACUTE?
The people — both the patients and my colleagues on the unit. The patients exhibit the utmost bravery when they make the choice to come to ACUTE and face their eating disorder head on as they start their journey of recovery. My colleagues' dedication to their patients and to the advancement of the treatment of all patients with eating disorders is inspiring. It's clear to me that this is not just "a job," but a calling. There's something about that is just so refreshing in a work environment.
Aside from eating disorders, are there other areas of medicine that really interest you?
I love to learn about medical history to understand how medicine has evolved from even before Hippocrates to its current practice and state.
What's an interesting fact or something unexpected people wouldn't know about you?
I'm squeamish about eyeballs. Nothing encountered in medicine otherwise phases me (body fluids, smells, etc.), but show me an injured or infected eyeball and I will squirm!
What are three traits that define you?
Effective communication, looking for creative or novel ways to solve a problem, and always learning.
What's your favorite place to relax?
Rocky Mountain National Park. I love hiking and enjoying the mountain views.
What's your favorite inspirational quote?
"The feelings we don't recognize come out as behavior. Our feelings are forces. If they can't live inside of us, they emerge outside of us." — Dr. Becky Kennedy