An Interview with Tammie Williams, LCSW, Clinical Social Worker Supervisor at ACUTE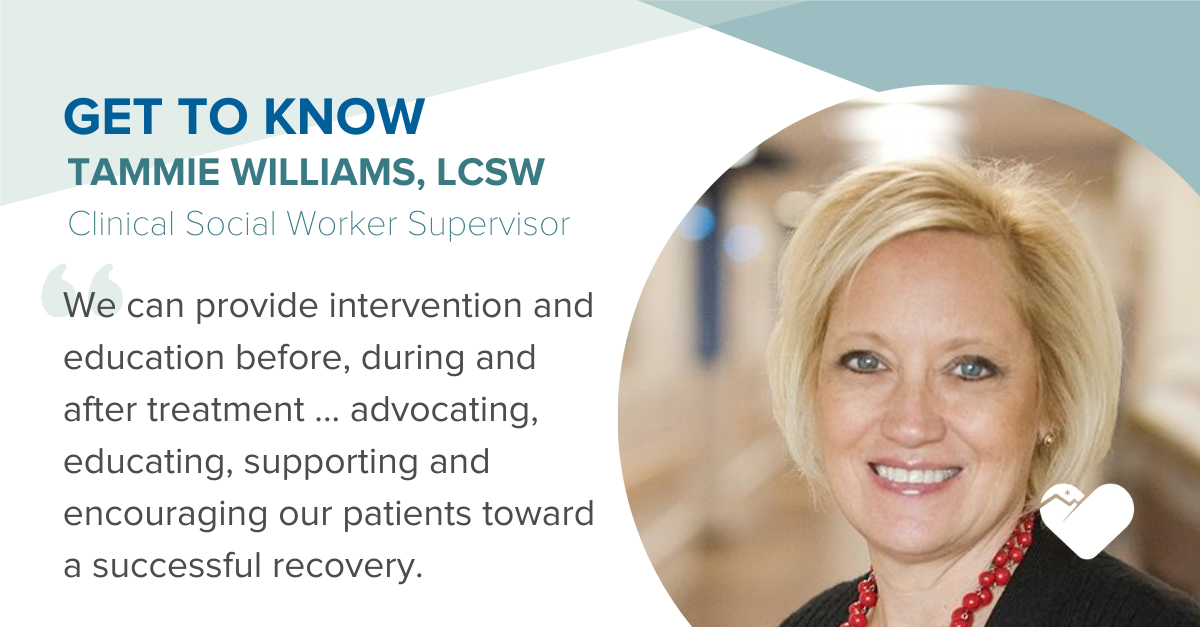 ACUTE has some impressive professionals on our social work team. In our interview series, we aim to highlight the talented individuals who work at ACUTE and the ways they impact the lives of our patients.
We spoke with Tammie Williams, LCSW. Tammie is the Clinical Social Worker Supervisor here at ACUTE. In her spare time, Tammie enjoys remaining active and enjoying the nature of Colorado. We talked with Tammie about what it's like working at ACUTE and more below.
Tell us how you ended up working with patients that are suffering from an eating disorder.
I have spent my career as a Social Worker specializing in working with children, adolescents and families in many capacities. I joined Denver Health nearly twelve years ago on the Child/Adolescent Inpatient Unit, providing individual and family therapy; as well as providing training and supervision for our pediatric psychiatry fellows, medical students and MSW Interns. When I heard about the opportunity to join the ACUTE team as they were expanding their service to treat patients as young as fifteen years old, I was excited for the opportunity! It has been a privilege to be a member of such an amazing team, working with Dr. Mehler and these special patients.
What does your average workday entail?
I like to start my day early, so I can talk to our night charge RN, who provides updates about how the evening went, then I plan my day. I coordinate with our MD's and psychiatrist, provide direct patient care through completing psychosocial assessments, individual sessions and family/team meetings with patients. When I am not meeting with patients, I am coordinating their care by gathering collateral information from family members, referral sources and outpatient team members, as well as providing discharge planning to ensure our patients safely transfer to a facility or team which will assure their ongoing treatment and success in recovery.
In my role as supervisor, I also provide support, direction and supervision for the social work team, and our MSW student. On occasion I have the opportunity to work closely with our intake and marketing teams.
Describe the impact of social work and social workers can have on eating disorder patients.
Being a social worker affords opportunities in many roles while working with patients who suffer from eating disorders. We can provide intervention and education before, during and after treatment, as admission specialists, treatment providers and after care clinicians — advocating, educating, supporting and encouraging our patients toward a successful recovery.
What drew you to ACUTE?
I was humbled to be considered for a social work position at ACUTE when we expanded our services to include adolescents. Working on this unique unit where we are providing medical stability for patients with severe eating disorders has afforded me the opportunity to expand my skillset and become more specialized in this field.
What would you say is the most rewarding part of your work?
There are many aspects of my job that I have found rewarding. I have appreciated the opportunity to participate in the development of our adolescent program, providing direct patient care to ensure our patients are provided with the best possible chance of recovery, and providing supervision to my team and our MSW student are my highlights.
If you weren't in social work, what else could you see yourself doing as a career?
I would teach at the University level.
If you could have dinner with three people, alive or deceased, who would they be?
That's easy – my Dad, grandma and grandpa Lind. I simply did not have enough time with them!
What do you like to do in your spare time?
I love reading, hiking, camping and traveling! I also enjoy spending time with friends, family and our pup Samson!
Where are your favorite local places to go?
Estes Park! I also love being in the foothills and mountains here in Colorado!
What's your favorite inspirational quote?
"Be the change that you wish to see in the world." – Mahatma Gandhi