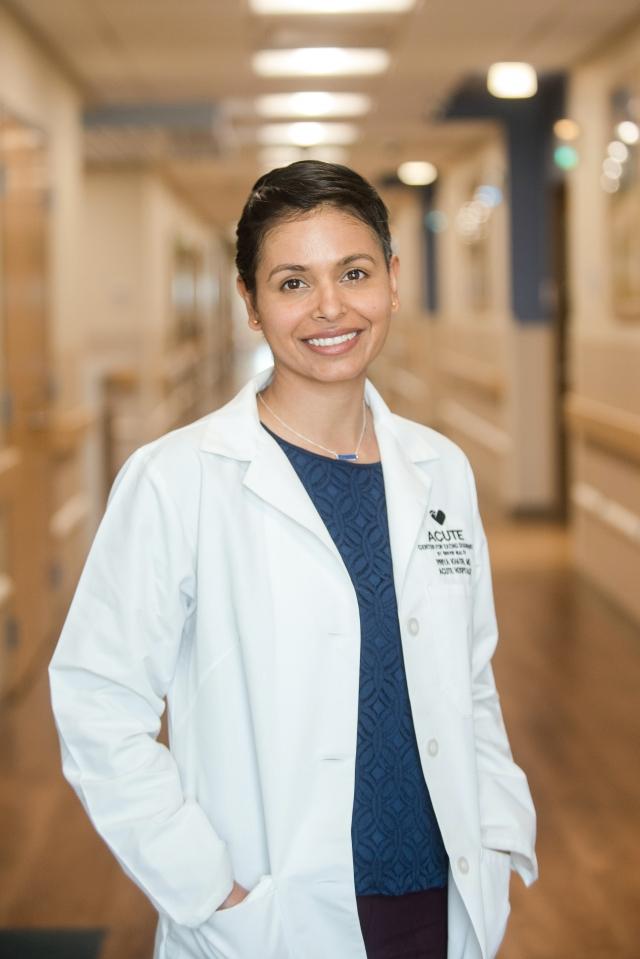 Vishnupriya "Priya" Khatri, MD
Hospitalist | Assistant Professor of Medicine, University of Colorado School of Medicine
Dr. Priya Khatri joined the ACUTE Center for Eating Disorders & Severe Malnutrition in 2019 as a Hospitalist.

Dr. Priya Khatri joined the ACUTE team in 2019. She finds working with a dedicated multidisciplinary team to help care for this vulnerable population very rewarding. Joining ACUTE was her first experience working with severe and extreme forms of eating disorders and severe malnutrition to which has steadily worked toward becoming an expert in the field. As an Assistant Professor, she is engaged in research and teaching pursuits to further our knowledge and understanding of eating disorders. She will become eligible to obtain her CEDS (Certified Eating Disorder Specialist) credential in 2021.

Dr. Khatri completed her residency training in Internal Medicine at Mount Auburn Hospital. She attended medical school at East Carolina University and obtained her Bachelor's degree in Biology at Duke University. Since moving to Colorado in 2019, she has embraced the outdoor lifestyle and enjoys backpacking and running with her husband and two dogs.