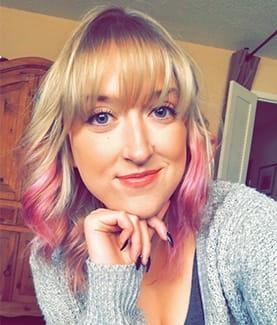 Caitlyn B.: Beams of Light at ACUTE
I was in my second year of college, a normal student, living the average college student life. Or at least I thought I was. Right before the end of my first semester of my sophomore year, my life was turned upside down. Over the fall break, my primary care doctor diagnosed with me anorexia nervosa. I was in complete shock. I still had two or three weeks of school left and I didn't know what to do. I told my parents and myself that I would do better, that I would see a counselor at school and that I would push through the last few weeks of the semester. Unfortunately, that didn't happen. I was too sick, and no matter how much I tried to deny it and fix it on my own, I needed help, and I needed it very soon. So, I was abruptly taken out of school, and on the recommendation of my doctor, admitted to the ACUTE Center for Eating Disorders and Severe Malnutrition at Denver Health.
 
A part of me was still in a little bit of denial about the whole situation. At the very beginning of my stay at ACUTE, I told myself I was just going to push myself through it so I could get back to my comfortable life of misery. However, as my time at ACUTE progressed, I started to actually notice the seriousness of my eating disorder and that this wasn't going to be a quick fix. It was quite scary I will admit, but the one thing I enjoyed the most from my stay at ACUTE was the comforting and gentle staff.
The people at ACUTE were my beams of light in a very dark and scary time of my life.
I felt understood, cared about and not judged for my illness. I even made friends with some of the nurses who took care of me. After my time at ACUTE, I continued treatment in other facilities and eventually moved back home. I am now a senior in college, studying psychology as my major, working part time as a receptionist at a construction company, and living my absolute best life. ACUTE taught me that sometimes plans don't always go the way we expect and things happen that we never thought would happen, but it's finding those beams of light in the darkness that will help you to get through it.