Adolescents with the Most Extreme Forms of Eating Disorders
Both male and female patients from the age of 15—regardless of how low their BMI is—are accepted at ACUTE.
A 30-bed telemetry unit, ACUTE provides inpatient medical treatment for life-threatening eating disorder complications, as well as behavioral support tailored to the needs of adolescents.

When your young loved one is experiencing life-threatening medical issues, experience matters. ACUTE has been designated as a "Center of Excellence for Medical Treatment of Severe and Extreme Eating Disorders" by Anthem, the first and only program to be recognized with this honor.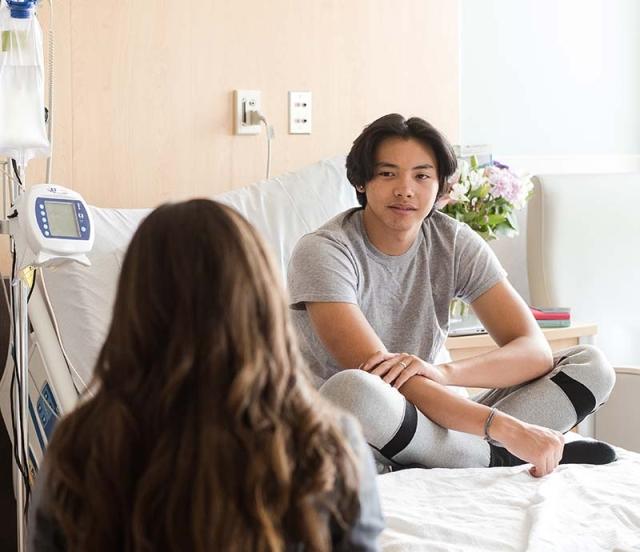 Support for Teens and Families
Specialized medical care from the world's leading experts in the medical treatment of eating disorders in adolescents
Behavioral health support from psychologists specializing in adolescent eating disorders
24/7 1:1 support from a Certified Nursing Assistant (CNA) or Behavioral Health Technician (BHT)
Additional medical support and consultation from an Adolescent Medicine physician specializing in eating disorders, and collaboration with any needed Denver Health medical specialists
Seamless collaboration with Denver Health's Pediatric ICU (when necessary)
A dedicated Child Life Specialist to help adolescents cope with the stress and uncertainty of illness, injury, disability and hospitalization
Extended visiting hours for families and caregivers
Family psychoeducation
Pet therapy
Discharge support, including transition to an adolescent residential eating disorder program or appropriate next level of care to continue recovery
Note: Due to the evolving COVID-19 pandemic, family visitation capabilities may be different to maintain strict infection control policies that keep our patients safe. Our admissions team can explain what to expect during an initial assessment.