What to Expect in Eating Disorder Treatment
While each patient's treatment is tailored to their unique medical and behavioral issues, some aspects of ACUTE are consistent:
You will be in a comfortable, private room with a private bathroom on a private hospital unit
Treatment is room-based, meaning that providers will deliver treatment in your private room
You will have around-the-clock support and assistance from a personal Certified Nursing  Assistant or a Behavioral Health Technician
You will be afforded quiet, peace and rest to support the process of healing from major medical instability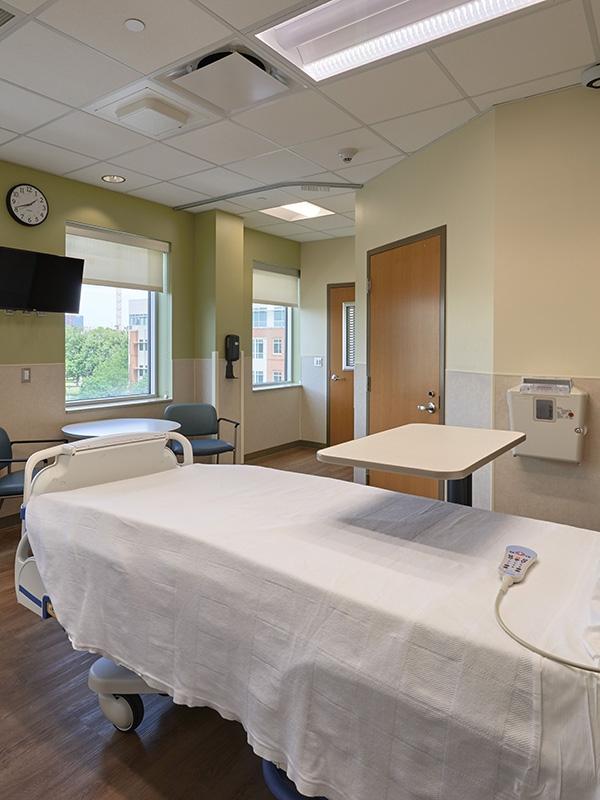 Daily Schedule
Labs and vitals are taken each morning, followed by an opportunity to shower in your private bathroom and prepare for the day. Meals and snacks are eaten in your private room and are supported by ACUTE clinical staff for safety and encouragement.  
Daily rounds with the attending physician, as well as individual sessions with your dietitian, psychologist, psychiatrist, physical therapist, occupational therapist and any sub-specialists, will be scheduled throughout the day. When patients aren't engaging in room-based treatment with their compassionate, skilled providers, they are encouraged to rest and enjoy their free time. 
While most of ACUTE's treatment is room-based, 1:1 care, there are two groups available to patients on the unit: 
Occupational Therapy group is held on Wednesday, and emphasizes engagement and motivation in leisure occupations and hobbies
Psychology group is held weekly, and focuses more generally making connections and helping patients deal with stressors of illness and hospitalization
When medically appropriate, ACUTE offers safe opportunities for patients to engage in activities, including tunnel painting, visits outdoors and low-level activity (i.e. laps around the unit). There is a designated "adolescent zone" with age-appropriate activities for young patients, as well as a multi-purpose activity room with a basketball hoop and other wellness equipment available for patient use.  
Time can also be set aside for the chaplain, social workers, coordination of continued care, and other resources, as needed. And let's not forget pet therapy! ACUTE's therapy animals are a welcome sight for so many of our patients.  
Everything about your stay at ACUTE is individualized and designed to best fit your unique needs. As a small, private unit, our teams can do what is needed, when it's needed, in order to keep patients safe and comfortable.  
What to Bring
We encourage you to pack appropriately for a hospital stay. Keep in mind that you will be relaxing in the comforts of your private room and you should dress comfortably. 
All belongings will be unpacked and inspected by staff. Suitcases will be stored safely in a locked room. Suitcases, back packs or other bags will not be allowed to remain in the room with you during your stay. 
Expensive clothing, jewelry and other valuables should be left at home. You will be responsible for your own items and ACUTE will not reimburse you for lost or damaged personal belongings. 
Clothing
Bring comfortable clothing for one week. You will have limited storage area in your room, therefore only one suitcase of clothing will be allowed. ACUTE has a laundry service to assist patients on the unit. Appropriate clothes may include: 
Pants (sweatpants, yoga pants, pajama bottoms, jeans)
Shirts for layering (no inappropriate language, images, or drug/alcohol related messages)
Sweater, sweatshirt (no pocket or hooded sweatshirts)
Pajamas, night gown, robe
Undergarments
Jacket/coat, gloves, hat (depending on the season)
Casual shoes, slippers, socks (no high-heels)
Toiletries
Basic personal hygiene items can be provided by the hospital, however most patients prefer to bring their own toiletries, including: 
Shampoo, conditioner
Toothbrush, toothpaste
Hairbrush, comb
Soap, deodorant, lotions
Make-up
Hair dryer, curling iron, flat iron
Medications 
Please bring all prescribed medications, supplements and over the counter medication that you are currently taking at home. All medications must be in original packaging, with prescriptions and labels in-tact. 
It is important to let ACUTE staff know what medications you are currently taking. ACUTE staff will log and store all medication for the duration of your stay. If refills or new prescriptions are needed during your stay at ACUTE, we will arrange for them to be delivered. 
Entertainment
Each room is equipped with wireless Internet access, a flat-screen TV and a DVD player. Patients are encouraged to bring other personal entertainment items as needed to occupy free time at ACUTE. Please be mindful of your recovery and resist bringing inappropriate or triggering items, magazines, movies or games. 
Laptop, cell phone, iPad, Kindle, hand-held gaming devices and chargers
DVDs (a small library of DVDs will be available for your use)
Books, magazines, newspapers
Art and craft supplies
Journal, postcards, stationary, stamped envelopes/li>
Personal Comforts 
We want you to be comfortable during your stay. If you would like to bring items from home, including photographs, a favorite pillow, blanket or stuffed animal, please feel free to do so.
Visitors Policy
To protect our patients, families, employees and the community during the outbreak of COVID-19, we have put measures into place that restrict visiting of family, friends and community members until the transmission of COVID-19 is no longer a threat. See the measures and designated times below.
Patients can have two visitors at bedside during these timeslots:
Monday - Friday

Group A (rooms 311-335): 3:30 PM - 5:15 PM
Group B (rooms 336-370): 4:00 PM - 5:45 PM

Saturday and Sunday

Group A and B (all rooms): 11:00 AM - 5:00 PM
All approved visitors must:
Be in good health. Visitors my be required to participate in a health screening. If symptoms an illness are present (example: temperature, cough, shortness of breath, etc.) the visitor will not be allowed to stay.

Wear a face covering and practice appropriate physical distancing. If a visitor removes their face covering, they may be asked to leave.

Stay in patient's room unless directed by hospital staff to leave for meals and/or provider sessions. Visitors may not walk laps with patients.
Visitors and patients are encouraged to spend visiting time outside whenever possible.