Inpatient Treatment at ACUTE
ACUTE is the country's only designated Center of Excellence for the medical stabilization for patients with extreme medical complications of eating disorders and severe malnutrition.  
ACUTE is not a residential eating disorder treatment center. Instead, ACUTE delivers world-class medical care in a hospital setting to treat the life-threating medical issues of malnutrition and purging. In addition to our expert, 24/7 medical treatment, ACUTE's interdisciplinary treatment team delivers intensive dietary, psychiatry, psychology, physical therapy, occupational therapy and spiritual support to enhance stabilization and prepare patients to discharge to the next appropriate level of care.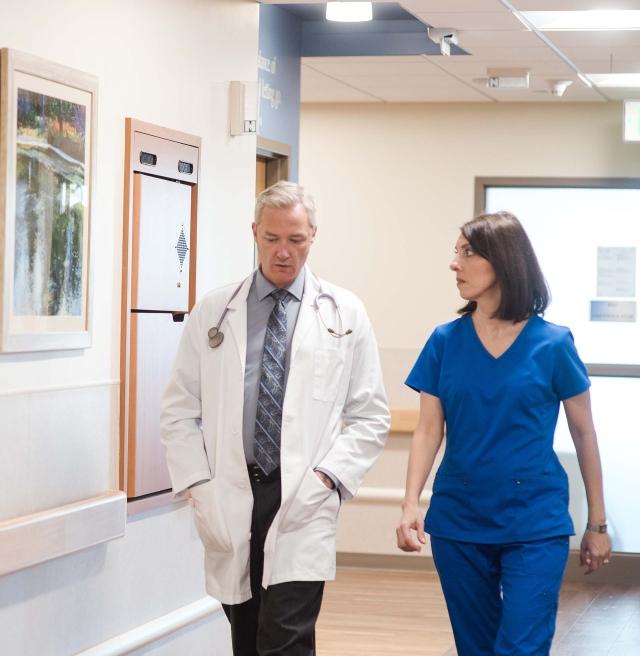 Specialized Treatment for Lasting Recovery
Patients that meet ACUTE's admission criteria are severely ill, and many are flirting with death. For many individuals, the discomfort of medical complications is an urgent catalyst to seeking eating disorder treatment. These patients may begin their recovery journey at ACUTE. Others may already be seeking treatment in an eating disorders program when medical complications arise or intensify. Providers will often refer these patients to ACUTE for specialized medical stabilization. Upon achieving medical stability, ACUTE seamlessly returns patients to their treatment center to continue their recovery. ACUTE works with you and your treatment providers toward a common goal: lasting recovery.
The vast majority of our patients, because they're so ill and they're flirting with death, are very appreciative of how much better they feel following expert medical care. [From ACUTE], they step down to the next level of treatment in a better place to pursue a complete and sustained recovery.
Dr. Philip Mehler, Founder & Executive Medical Director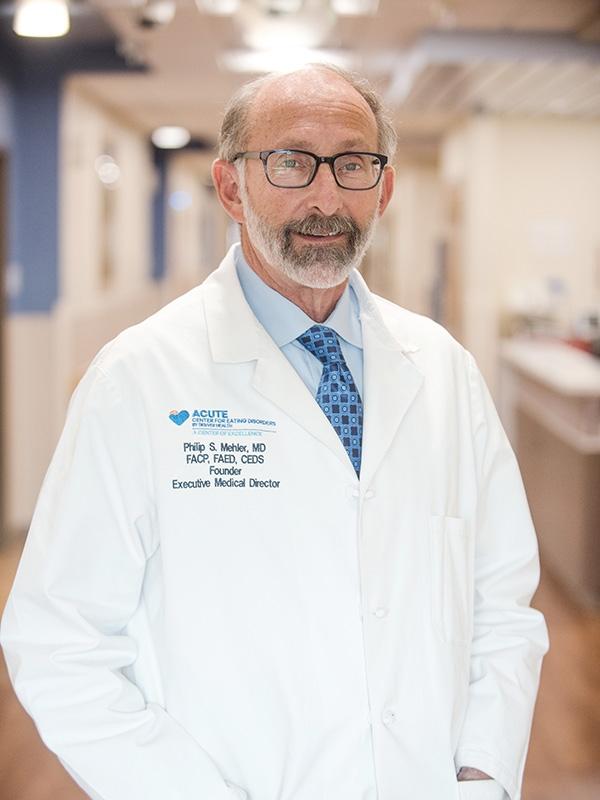 Unmatched Eating Disorder Expertise
Meet Dr. Philip S. Mehler, MD, FACP, FAED, CEDS, Founder and Executive Medical Director of ACUTE. All care at ACUTE is overseen by Dr. Mehler, the world's leading expert in the medical treatment of eating disorders and author of nearly 500 scholarly pieces on the topic of effective medical treatment of eating disorders and severe malnutrition. Expertise and experience matter when seeking medical care for a severe eating disorder. You deserve the unmatched understanding Dr. Mehler and the ACUTE team bring to each and every case. 
Treatment for Severe Malnutrition (Non-Eating Disorder)
Some patients that admit to ACUTE do not have an eating disorder. Instead, they require medically-supervised weight restoration and/or refeeding for severe malnutrition to achieve minimum Body Mass Index (BMI) requirements to undergo life-saving surgeries and treatments, including:
Chemotherapy and radiation
HIV anti-retroviral therapy
Surgery for NTM, aka MAI
In addition to expert medical care, these patients may access any relevant services from ACUTE's multidisciplinary treatment team.