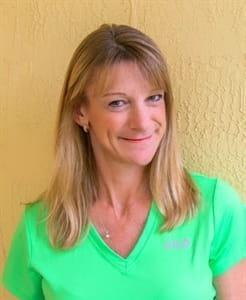 Janice B.: Building My Armor
Building My Armor: An Eating Disorder Recovery Journey with ACUTE
I was at the end of my rope.
Upon arrival at the ACUTE Center for Eating Disorders and Severe Malnutrition at Denver Health, I was feeling hopeless, helpless and just plain tired. I felt like a 95-year-old woman in a 46-year-old body as I struggled on a daily basis to climb the stairs in our home, walk our dogs, let alone complete a day of work in my medical sales job. I was unable to truly laugh (a wonderful gut-wrenching laugh), or feel and was overcome with a deep, dark, sad and gloomy outlook on life no matter how hard anyone tried to convince me of my worth. I was numb — just "existing" in life as opposed to living it ... just floating along, day-by-day, waiting for the sun to set so I could escape into the painless, thoughtless world of sleep. All to have to start it over again with the sun rising the next day. I realized this was all representing the perils of the vicious cycle of an advanced eating disorder, which began 30 years ago.
Having only been married just over a year, I was beginning to see the significant impact my eating disorder was not only having on my life, but on the life of my wonderful husband, Rick, and our two adorable pups, Molly and Rudy. It was also once again affecting my poor parents who have been seeing their only daughter disintegrate before their eyes for many years now, and have witnessed multiple failed attempts at full-health restoration as I've struggled through this life-altering condition. I was no longer able to join Rick in our favorite activities, such as walking along the Florida beaches, exploring beautiful parks, biking, kayaking and more. I avoided many holidays and outings due to shame, guilt and my "special food rules." I was no longer able to "romp around" with my pups in the park — talk about disappointing! I simply didn't have the energy; my body had, had enough and was shutting down, little by little.
My self-hate and condemnation was at its highest and I took out my "bat" on a daily basis, continuing to beat myself up mentally, hearing my wretched eating disorder chanting over and over, "You're a loser and a complete failure. You do not deserve to get well."
What kind of life was this? I knew I needed help, and fast. My life was slipping away right before my eyes and I had to do something about it. I had too much to live for and realized I may just die if I didn't act quickly.
Changing My Life with ACUTE
I reached out to several eating disorder treatment centers and was turned away by several because of a prescribed medication I was taking for my fibromyalgia — most likely a result of many years of abuse I'd put my body through. I was shocked and hurt, and the shame of needing help intensified. I felt utterly rejected, further perpetuating my condition. Seeing my rapid decline, my therapist Googled "medical treatment center for eating disorders" and thankfully, the ACUTE Center for Eating Disorders popped up at the top of the list. I desperately reached out to them, leaving a message expecting them to maybe get back to me within a couple of days. However, Rachael Harriman Byrne, the Administrative Director of ACUTE, reached out to me within an hour and it was impressive. When I spoke with Rachael, I immediately sensed a connection — this woman wasn't just doing a job, she genuinely cared about my well-being and safety, and truly believed that the staff there could provide me the care I needed to pull through. After a few days of consistent and reliable correspondence via phone and email, the next thing I knew, I was purchasing a ticket to Colorado.
I began my journey toward recovery the minute I walked through the doors at ACUTE. The staff was warm and friendly, genuine and compassionate. I was not "just another skinny girl" as I'd felt so many times before. Instead, I sensed their true recognition of me as a woman struggling to overcome a serious illness. I had "good vibes" from the get-go, which I hadn't felt at the several other inpatient treatments centers in years past. I was becoming hopeful — something I'd truly never felt about treatment for my eating disorder.
The most significant component of this first step toward recovery was the immediate trust and connection with my team. I met with my physician/hospitalist Dr. Elissa Rosen, my psychologist Dr. Jodie Benabe, my social worker, Sara Nieder and my dietitian Carrie Schimmelpfennig every day, five days a week. (Yes, FIVE DAYS per week!!) My team truly listened and actually understood — it was evident that these folks cared … and cared a great deal. They weren't just doing a job — they were committed to helping their patients recover. On top of that, their expertise in the field was extensive and several publications exist reflecting their hard work and dedication. Each day, my team assured me that without a doubt I could do this — I could indeed recover from this horrible condition — it wouldn't be easy, but it could be done. To have someone truly believe me, and for me to trust it, was completely foreign to me!!!
Having been in treatment at several different facilities, I was expecting another "us versus them" experience, and was truly blown away when I didn't feel that at ACUTE. This was a novel concept — my team and I on the same page? This was getting interesting and I didn't want the excitement I felt to go away. Talk about feeling inspired!
The physical therapy (PT) component of ACUTE's program was invaluable. Never had I even heard of PT in an eating disorder treatment center, but this place almost encouraged it (post-medical stabilization) twice a week. Michelle Laging, Mennatullah Lotfy, Christina Logan and Amy Meadows were truly amazing and had so much knowledge in their field and how it related to eating disorders. They not only provided some safe core-stabilization techniques, but actually took the time to hear what had been working for my fibromyalgia in the past, helping me to refine my stretching program to safe, appropriate therapeutic positions. Needless to say, I was floored by their expertise as well!
Under the leadership of Anne Karna, the staff nurses and certified nurse assistants (CNAs) at ACUTE radiated warmth and empathy, providing a helping hand and/or a shoulder to cry on when needed. They provided round-the-clock care, tending to their patients' needs immediately, and even following up to be sure everything is OK. They worked hand-in-hand with my team to ensure everyone was on the same page and on board with the planned treatment. "What kind of health care provider does this?" I asked myself. I sure didn't know of any... not until I came to ACUTE!
I spent my days (when not meeting with providers) pouring through my notes from the invaluable daily sessions I had with Jodie, my primary therapist. What I gleaned in one session would've taken months of therapy elsewhere. Her insightfulness and expertise, coupled with the amount of research she'd done in the field, helped me to truly begin to understand the origin of my condition and the several factors that may have contributed to it. We explored some of those painful happenings and how they've possibly created an unstable "foundation" in my early years and led to my eating disorder. The shame and guilt was oddly beginning to disintegrate. We discussed potential triggers (personally and professionally) that may cause me to reach for my "eating disorder cape" - a cape of isolation and numbness that kept me in my own seemingly safe and secret world, in which I was in charge, or so I thought. I learned from Jodie that in reality, this perception of safety was far from being truly safe. Rather, it was a "hell," and was preventing me from truly living life to its fullest and experiencing the things in life that bring true joy and happiness. We actually worked together to define happiness as I didn't fully grasp it, and how it was achieved. After all, I hadn't fathomed it for many years prior.
By the end of my treatment at ACUTE, with Jodie's guidance, I'd begun to shed that cape and replaced it with a resilient "armor" – that of an eating disorder warrior!
As opposed to a victim, I am now an eating disorder warrior, on the path toward good health and life-long recovery, yearning to reap the benefits. And this time, I believe that I am worthy (and capable) of true happiness — because I deserve it. It is with bitter-sweet feelings that I depart from ACUTE armed with confidence, motivation and a zest for life like no other. I begin a new chapter in my life, a life of health and living life to its fullest, rather than the "existing" I was so accustomed to. And I know that I will one day soon experience that deep, gut-wrenching belly laugh I had as a small child and have been yearning for over the years.
Had I not found ACUTE, I don't know where I would be right now …or even if I would be. There are not enough words in the dictionary to express my gratitude toward my team and the staff. The only way I feel that I can possibly thank them enough is to fully recover from this insidious illness, and that I intend to do!