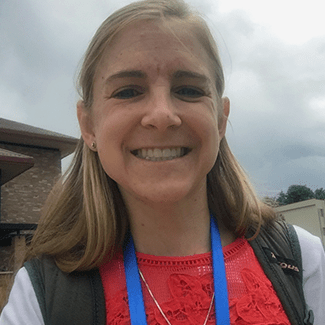 Michelle C.: Climbing Mountains and Getting Married After ACUTE
For 17 years, I struggled with anorexia nervosa, depression and anxiety. I had been to residential treatment four times since the age of 11. My life changed when I went to the ACUTE Center for Eating Disorders and Severe Malnutrition at Denver Health in the spring of 2018.

I came to ACUTE because I had relapsed from my previous time in treatment, was struggling in my rural town to find outpatient providers and had recently been to a medical doctor specialized in eating disorders who discovered I had a slow heart rate, along with other health concerns. I knew that I wanted to pursue lasting recovery, and that I was at too fragile a state to do it on my own or with an outpatient team, so I went to ACUTE.

When I first arrived, I was surprised at the isolation I felt being alone in a hospital room. My previous treatment stays were at residential facilities, never true hospitalization, so I was used to socializing and a busy schedule of therapy groups to attend. However, god used this time to show me how important rest is and to help me get on a more solid physical footing so that I could focus on the therapy after ACUTE. I found all of the staff to be very kind and the accommodations were comfortable. Everyone encourages and supports you.

ACUTE helped me in my recovery journey to understand more about the importance of physical health and that it is possible to recover fully from the devastating effects of years of restrictive eating. I received the cutting-edge treatment I needed for osteoporosis. I was able to ease back into healthy eating in a comfortable, controlled environment.

The doctors at ACUTE are experts in their field and I felt well cared for. Going through treatment is not easy, but it is a necessary part of the recovery journey in order to become physically stable and ready for the mental and emotional healing to take place. In a previous residential stay, my medical needs were not attended to properly and I suffered immense pain from fluid overload and swelling in my legs. I was told that I just had to tough it out and prop my legs up, but was never taken to see a doctor. I was so glad to have the careful monitoring I had at ACUTE, so that I did not suffer any painful or lethal consequences of refeeding syndrome.

I would like to thank the staff at ACUTE for the care I received and for being patient with my never ending questions about "how much longer" I would have to stay. The therapy dogs were awesome and the certified nursing assistants who sat with me were so kind. My therapist was phenomenal as well. 

I am now working as a registered nurse at a local hospital and have been able to hike my first 14'er since moving to Colorado. I am also in graduate school for counseling so I can hopefully help people like me in the future. I recently got engaged and plan to get married in May! Thank you ACUTE for helping me work toward all of my dreams and goals.