An Interview with Delaney Wesselink, PT, DPT, Lead Rehab Specialist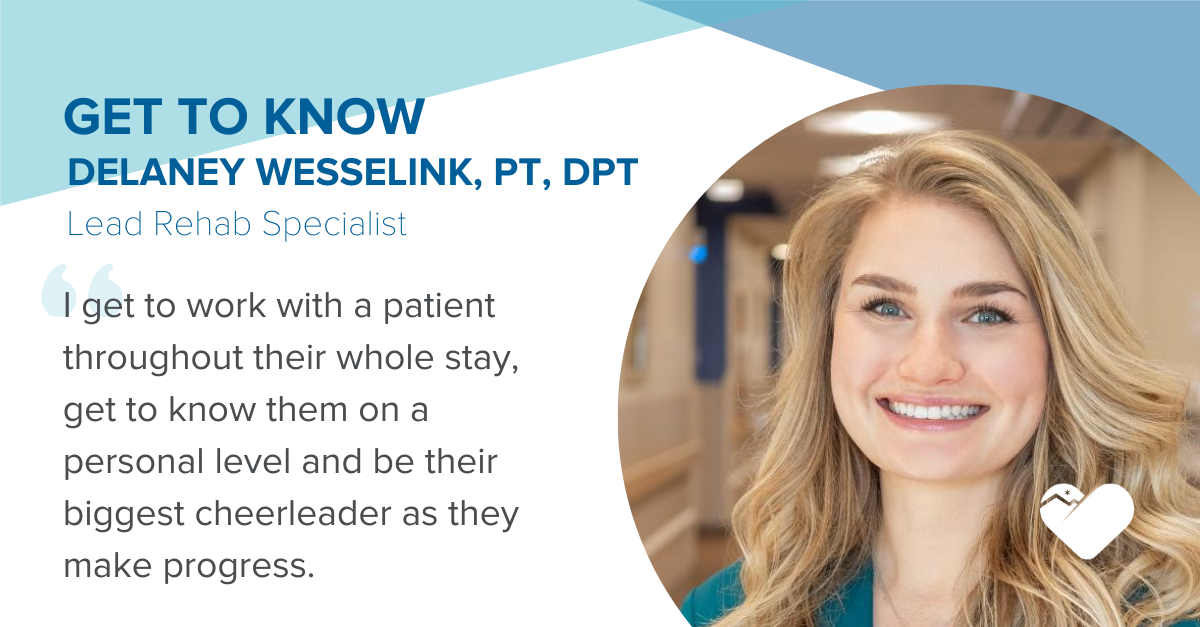 ACUTE has some impressive professionals on our treatment team. In our interview series, we aim to highlight the talented individuals who work at ACUTE and the ways they impact the lives of our patients.
We spoke with Delaney Wesselink, PT, DPT this month. Here at ACUTE, Delaney is our Lead Rehab Specialist. When she's not on the unit, Delaney is an avid outdoor enthusiast. We talked with Delaney about what her role at ACUTE is like and more below.
Tell us how you ended up working with patients that are suffering from an eating disorder.
My interest started when I had a lecture in one of my classes in physical therapy school about physical therapy at the ACUTE Center for Eating Disorders and Severe Malnutrition. I was immediately intrigued by the complexity and uniqueness of the eating disorder patient population, and the impact that physical therapy can have in their recovery. Upon graduating, I saw that ACUTE was hiring and applied; the rest is history!
What is the value in physical therapy for patients with eating disorders?
So much! During inpatient treatment we evaluate safety and fall risk, then work with the patient to create an individualized plan to work on their strength, mobility and independence. Movement in eating disorder treatment needs to be handled strategically and carefully, but it is very important for the patient's physical and mental health. I like to think of physical therapists as movement specialists, so I think we can be very influential in working with patients on incorporating movement and exercise into a daily routine in a way that is safe for wherever the patient is at in their treatment. On an outpatient basis, physical therapists can work on incorporating exercise in a way that is healthy and support of weight restoration, they can help with musculoskeletal injuries related to chronic malnutrition and they empower patients as they adjust to their life with a new body. I'm a strong proponent of incorporating physical therapy throughout all levels of care in eating disorder treatment because I think we can have an extremely important role in treatment and eating disorder recovery!
What does your average workday entail?
I see an average of 7-8 patients per day for treatment sessions and evaluations, with sessions lasting about 30-45 minutes. What I do during the PT treatment sessions depends on the patient's medical status, mobility level and strength.  I also usually have team meetings scattered throughout the day with patients and their families, where I provide updates on how the patient is progressing in physical therapy, what we're working on, etc.
What drew you to ACUTE?
I loved that physical therapy in this setting seemed so unique and challenging! I knew that I would be able to see a wide variety of patients and watch them progress and get stronger during their stay at ACUTE. I've seen firsthand how eating disorders can impact people and take away their lives, so I was excited about the possibility of helping people through a challenging time. I like that ACUTE provides continuity of care and that I get to work with a patient throughout their whole stay, get to know them on a personal level and be their biggest cheerleader as they make progress. I also saw an opportunity for growth and a chance to spread the word about the importance of movement and exercise in eating disorder treatment. I was inspired to do presentations and teach others about the work that we are doing at ACUTE.
What is something unexpected you have experienced while working as a physical therapist?
I'm just always amazed at the impact that physical therapy can have on people. It makes me feel so fortunate to have the career that I do. I love the fact that I really get to know someone, see them make progress, and help them achieve their goals. I am also surprised at how resilient people can be!
What is your favorite travel spot?
Anywhere in the mountains, especially if there is snow! Winter is my favorite season; my husband and I usually try to go to a new mountain every ski season and explore. That's why living in Colorado is perfect for me!
If you could pick a celebrity to play you in a movie, who would it be and why?
Probably Amy Poehler. She looks nothing like me, but I've always thought she was hilarious!
What's something on your bucket list you want to do?
Probably a tie between getting my private pilot's license or snowboarding in Japan.
What's your favorite inspirational quote?
"Fight for the things you care about, but do it in a way that will inspire others to join you."

Ruth Bader Ginsberg